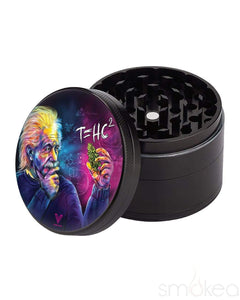 V Syndicate "Einstein Classic" 4 Piece SharpShred Grinder
The SharpShred grinder is one of many of the great smoking accessories offered by V Syndicate. Showcasing the same bold designs found on their rolling trays, ashtrays and more so you can coordinate all of your smoking accessories.
Stop shredding your herb by hand and try out the super-sharp teeth on the SharpShred Grinders for a clean and consistent grind every time. Featuring a durable pollen screen and made from premium materials, the 4 piece design is great for breaking up your herb into a consistent grind and collecting pollen. Available in several styles and sizes.
You don't have to know Einstein's theory of relativity to know that a smoker's collection isn't complete without the perfect grinder, and if E=MC2 then this grinder equals one happy stoner. The Einstein Classic 4 Piece Grinder from V Syndicate is offered in 55mm and 63mm sizes and features extra sharp teeth to create a smooth, easy grind, a durable pollen screen, and two mini scrapers to get every last bit of that keefy goodness.
4 Piece Design (also available in 2 piece)
Premium Metal Construction

Super Sharp Grinding Teeth
Durable Pollen Screen w/ Pollen Chamber
Perfect Portable Grinder
Two Mini Scrappers Included
Bold Designs
Matching Accessories by V Syndicate
Two Sizes Available - 55mm (2.16"); 63mm (2.48")
---
We Also Recommend
---