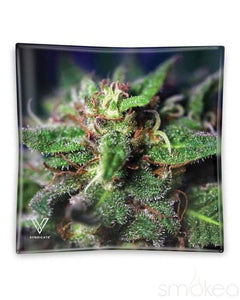 V Syndicate "Blue Dream" Glass Ashtray
Glass ashtrays all seem to be the same primitive versions that you can buy at any local corner store. That all changes with the new Blazin' Glass Ashtrays from V Syndicate. Introducing a bold glass ashtray that will satisfy any smoker. Whether you are looking for a funny ashtray, a cute ashtray, or just a really unique ashtray, we've got you covered. Made to last, these glass ashtrays have been tempered and are shatter-resistant so that even the most accident-prone smokers can enjoy these stunning pieces for years to come.
Why Glass? We believe that the best ashtrays are made from glass. Glass ashtrays don't hold heat the way metal ones do, making putting out your papers safer. They are also better for people looking for an outdoor ashtray, as metal ones are prone to rusting. Keeping your ashtray outside isn't an issue with our Blazin' Ashtrays, plus, they have a shine, weight, and feel that is unbeatable.
High Quality Tempered Glass
Shatter Resistant
Available in Several Bold Designs
Printed in Full Color
Easy to Clean
Size: 4.5" x 4.5" x 0.5"
---
We Also Recommend
---