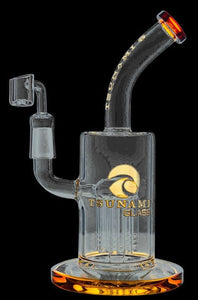 Tsunami Tree Water Pipe
If you're on the hunt for a sleek & compact concentrate rig that delivers smooth & tasty hits, you've met your match with the Tree Water Pipe by Tsunami. This 9-inch tall all-glass rig is sure to be a permanent fixture on your coffee table with its clean, classic look.  
This robust rig is made of 4mm thick premium glass. It has an extra thick round stable base, a curved and rimmed mouthpiece for your dabbing comfort. It also has an awesome tree percolator inside that pumps out great rips. 
The tree percolator has multiple branches or arms with slits that work to boost the filtration of your smoke. The perc ensures that your hits are smooth and flavorful so you can get the most pleasure from your precious concentrates. 
Adorned with a Tsunami Glass logo on the curved mouthpiece and smoke chamber along with color accents on the mouthpiece rim and round base, the Tsunami Tree water pipe is one good looking rig. The Tree comes with a 14.5mm female-jointed banger and is available in three great color choices. 
---
We Also Recommend
---