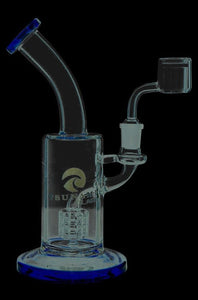 Tsunami Matrix Water Pipe
If you're on the hunt for a simple, cost-effective water pipe that delivers smooth and tasty hits, the Tsunami Matrix is for you. This attractive 9-inch concentrate rig uses a matrix showerhead percolator that's designed with openings at the top and bottom for the best filtration possible.
When you load the included 5mm thick quartz thermal banger with your concentrate, heat it up, and take a hit, you'll get the kind of smooth and flavorful rips you'd expect from a great water pipe. 
Made of high-quality, thick borosilicate glass with classic color accents on the thick mouthpiece rim and the wide & thick circular base, this all-glass rig is a beautiful and sturdy piece that would make a great daily driver. 
The rig is outfitted with a reinforced built-in downstem, a 14.5mm female joint, and a slightly bent neck that's perfectly angled for comfort. It's adorned with a gold Tsunami Glass logo.
The Tsunami Matrix comes in your choice of four colors: Amber, Blue, Green, and Purple. 
---
We Also Recommend
---