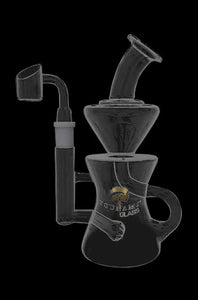 Tsunami Dual Chamber Water Pipe
Take your seshes to a whole new high and experience smoothness like never before with the Tsunami concentrate rig. With its beautiful hourglass shape and compact design, this 9-inch rig is a real looker and one that's packed with great features you'll love. 
This rig is outfitted with a sprinkler percolator for bubbling water infusion, a recycler tube, and a bent mouthpiece that's perfectly angled for your comfort. Once you heat up the 14.5mm male quartz banger, drop in your concentrate, and inhale, you'll enjoy hits that are out-of-this-world smooth and flavorful. 
This great looking clear glass rig is made of thick & durable high-quality glass. It's decorated with a gold Tsunami Glass logo to make it really stand out. It's sure to become your daily go-to piece and one you'll want to show off and share.
The Sprinkler Recycler Dab Rig has everything you need to get the most out of your precious concentrates. 
---
We Also Recommend
---