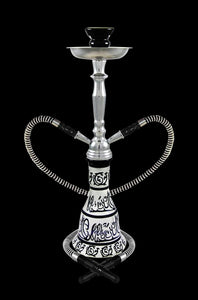 Premium Hookah 2-Hose Hookah - Hieros
What a gorgeous piece this Hieros Hookah by Premium Hookah is! This 2-hose hookah is ready to party with its dual-use design!
The hookah stands out with its glass base that's adorned with unique patterns in a variety of colors. It stands 20 inches tall when fully assembled to ensure truly monstrous hits you'll love sharing with your favorite people. 
The hookah includes two hoses, an ash catcher, a ceramic Shisha bowl and charcoal tongs. All you need is some Shisha and charcoal, and you're ready to enjoy! 
---
We Also Recommend
---