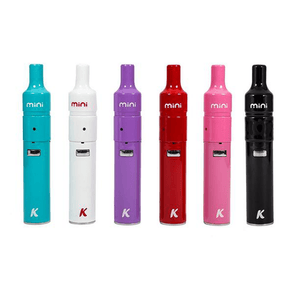 KandyPens MINI Vaporizer
The KandyPens MINI is designed to produce voluminous, smooth clouds of vapor in seconds. Its beastly 950mAh lithium-ion battery is paired with a coilless ceramic atomizer to ensure both cloud chasers and flavor enthusiasts have an enjoyable session. The deep dish chamber and elevated airflow system help protect the MINI from ever leaking material, and a lifetime warranty covers the battery to give you peace of mind.
The MINI gives you complete control over your vapor with a temperature-controlled battery that offers three preset options. At 350 °F, you'll experience the complete flavor profile of your material; 390 °F delivers a "best of both worlds" session with rich flavor and ample vapor production; the 430 °F setting is aimed at those who are in search of thicker clouds with each draw. KandyPens knows that not all concentrates are made equal, so they gave you the flexibility to discover the perfect setting for any material. A 10-second auto shutoff regulates your draws and helps prevent overheating.
KandyPens Mini features an innovative SloBurn™ technology that always delivers great flavor—no matter the temperature. To eliminate any unwanted flavor, the coilless design and advanced ceramic dish heats your material at a consistent temperature to prevent any combustion.
Variable Temperature Control (350°, 390° and 430°)
Coiless Atomizer
Elevated Air-Flow Design
Leak-Proof
950 mAh Lithium Ion Battery
Pass Through Charging (Mini-USB)
510 Threaded
Auto Shutoff Safety Feature
For Use With: Concentrates/Extracts
In the Box:
1x KandyPens MINI Battery
1x Coilless Ceramic Atomizer
1x Mouthpiece
1x Micro-USB Charger
1x Concentrate Tool
1x Instruction Card
1x Alcohol Wipe
---
We Also Recommend
---