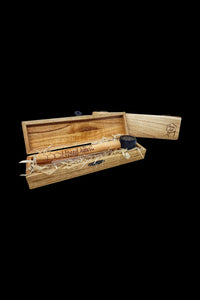 Honey Dabber II Kit
The same popular Honey Dabber II concentrate straw that many dabbers turn to as their favorite daily driver now comes in an awesome kit! The Honey Dabber II Kit has everything you need for dabbing your favorite concentrates on-the-go. 

Housed inside the handsome hand-finished box crafted from cherry wood and sealed with all-natural linseed oil, there's a complete concentrate kit ready to travel.
You'll get the Honey Dabber II which is the only concentrate straw that can be put away hot, thanks to its removable heat-resistant sleeve that protects you and the surrounding area from the hot tip after each use.
You'll also get a titanium tip for creating big clouds and a quartz tip that's more focused on delivering flavor. There's also a handy silicone dab container tucked into the slim latched storage box. 
The Honey Dabber II Kit from Honey Labs is the perfect on-the-go dabber setup. Get yours today. 
---
We Also Recommend
---