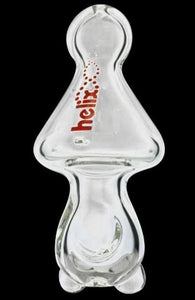 GRAV Mini Hand Pipe - Helix
This 6-inch GRAV Helix Mini Hand Pipe might look like an ordinary small glass herb pipe but thanks to genius engineering, it packs a huge punch! The Venturi chamber mouthpiece allows it to spin & cool hits through 3 different intake holes.

This pipe is made of high-grade borosilicate glass, it's resistant to cracks & preserves all the essential flavors of your favorite dry herbs. There's an integrated roll stop on the bottom of the pipe that keeps the piece stable when you're not using it. Like most Helix glass hand pipes, this piece delivers super-smooth hits & also conserves your dry herb.

No water or accessories are necessary - just load the glass bowl with finely ground dry herb, and you're good to go!

The GRAV Helix Mini Hand Pipe comes in a random label color. 

---
We Also Recommend
---