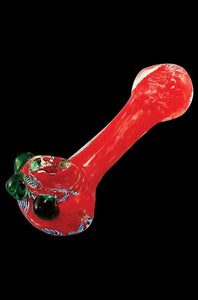 Solid Color Glass Pipe
It's simple, beautiful, portable, and a pipe that's perfect for daily use. This 3.5 inch Solid Color Glass Pipe is made of thick and resilient borosilicate glass. 

The pipe's design with the solid color with contrasting frit twists is aesthetically-pleasing. There's a carb hole on the left side of the bowl for clearing the pipe of smoke and controlling the size and intensity of your rips. The bowl also features raised glass marbles to provide a firm, comfortable grip.  
Each 3.5" Solid Color Glass Pipe is hand blown. Therefore there may be some variance regarding size, design, and color. 
---
We Also Recommend
---